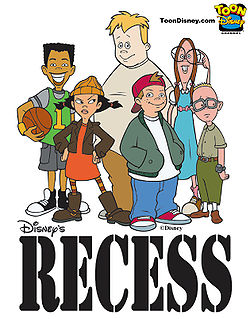 &nbsp
Recess is an American animated television series that was created by Paul Germain and Joe Ansolabehere, and produced by Walt Disney Television Animation. The series focuses on six elementary school students and their interaction with other classmates and teachers.
Recess portrays the lives of six fourth graders as they go about their daily lives in a highly clichéd school environment. The students of Third Street School have set up a microcosm of traditional human society complete with its own government, class system, and set of unwritten laws. They are ruled by a monarch, King Bob, who has various enforcers to make sure his decrees are carried out. The little society has a long list of rigid values and social norms that imposes a high expectation of conformity upon all the students.
Recess is illustrated to be a symbol of freedom—a time when the kids can express themselves and develop meaningful relationships. Most episodes involve one or more of the main six characters seeking a rational balance between individuality and social order. They are often defending their freedom against perceived threats by adults or social norms. The group's leader, T.J. Detweiler, tends to have the most complete vision of this struggle, though even he has times when he inadvertently.
Recess premiered on ABC's One Saturday Morning programming block on September 13, 1997. Despite coexisting with big-name Disney shows like Pepper Ann and Doug Recess established itself as one of the most popular and successful shows of its time. Recess 's success spawned two direct to video titles and one theatrical film, Recess: School's Out, which was released on February 16, 2001. On an ABC Saturday Morning preview seen on the video release of the live-action 101 Dalmatians movie, a what appeared to be pilot or prototype version was seen, with many of the characters looking different, the absence of Gus, a completely different title card, and sloppier animation.
The series was cancelled in 2001, and Disney stopped airing new episodes after November 21, 2001, but still continued to show episodes on ABC's One Saturday Morning until 2002 and UPN's Disney's One Too programming blocks until 2003 when both blocks were phased out. Re-runs also aired on ABC Kids until September 2005 (when the block turned into an all Disney Channel line-up). They are still shown sometimes on the Disney Cinemagic channel.
Community content is available under
CC-BY-SA
unless otherwise noted.